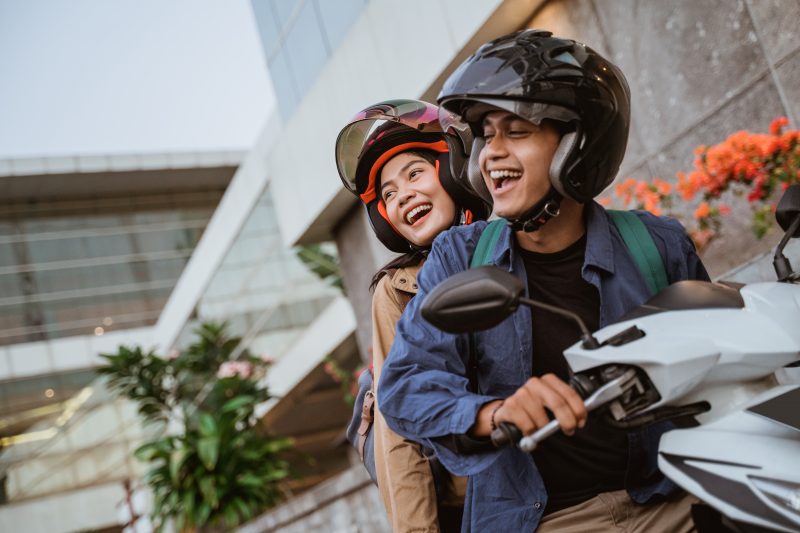 Refer A Biker Buddy To Budget Direct Insurance To Enjoy Perks!

Good Things Must Share!
 Purchasing any type of insurance usually involves plenty of research, since there are so many options available to riders. This search can often be exhausting, and time-consuming, so why not share a good thing with your buddies by referring them to Budget Direct Insurance?
Did you know that you can recoup some motoring costs, simply by referring your friends?
In the first place, your friend may be questioning why they should sign up with Budget Direct Insurance. In our opinion, here are some reasons why we think Budget Direct Motorcycle Insurance is the way to go:
Budget Direct Insurance offers the cheapest comprehensive motorcycle coverage (for safe riders), according to an independent study.
Forget worrying about any middleman or agent fees when purchasing insurance. That's why when you go direct to Budget Direct Insurance, you end up paying less.
Being a digital online insurer, means they are always available 24/7. Budget Direct Insurance never sleeps, which is a good thing for you. Their award-winning customer service team is always reliable and available, and you can easily reach them via a 24/7 Claims Hotline or their 24/7 Emergency Web App which is truly convenient.
Only Cover What You Need
Often with other insurers, you will have to select a plan that automatically covers a variety of unspecific needs which you may not personally require. These policies do cost more.
With Budget Direct Insurance, however, you can customise various factors like:
Motorcycle insurance excess
Opt for Singapore-only coverage
Add NCD Protector if you have a 20% NCD
Add on 24/7 roadside assistance
Get a Paperless Discount (Save the trees!)
…….and more!
This flexibility will allow you and your Biker Buddies to go for exactly the policy that will put your mind at ease while saving money!
How It Works
1. Share your unique link
Did you know that as long as you have purchased ANY product from Budget Direct Insurance – be it Car, Motorcycle or Travel – you will automatically have a Buddy Referral Link?  You can either access your unique link via login to your Policy Manager or by contacting the helpline at 6221 2111.
2. Friend purchases Motorcycle insurance policy with Budget Direct Insurance
Secondly, your friends should use your Buddy Referral Link when getting a quote for their new Motorcycle insurance policy online. If your friends are signing up over the phone or in person, they can provide your Buddy ID to the Customer Care Executive, who will make sure all details are in order. Just remember, your friends must be new customers to Budget Direct Insurance for you to enjoy this promo.
3. Claim your reward
Up to 30 days following the start date of your friend's policy, you will receive an email with a link to access your base reward e-shopping vouchers. Your bonus reward e-shopping vouchers will be sent to you within 90 days after the offer ends on 30 June 2022, allowing you to gain more rewards by referring more friends.
For every biker friend that successfully signs up, you earn a $20 base reward in e-shopping vouchers, and your friend gets a 5% discount on their policy. There's more. For every 3 biker friends who successfully sign up, you earn an additional $40 e-shopping vouchers bonus reward.
Not yet a Budget Direct Insurance customer? Use our Affinity ID: BEHCHIALOR and get 5% discount off your policy! Don't say bo-jio!
You Might Be Interested In